Dog Grooming Lancaster Ohio

Get your dog looking and smelling great - pamper them with our professional grooming services!

Your pet will be tenderly and professionally groomed by our groomers, Andrea and Holly. Our groomers welcome all dog breeds, big and small, for grooming! We can even accommodate clients with cat grooming needs.
Appointments available Monday through Saturday.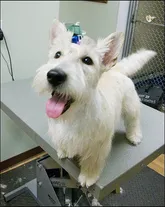 Tinkerbell, a Scottish Terrier
Grooming services are available Monday through Saturday by appointment only, and may be paired with boarding. In most cases, your pet will need to be here for only three hours on average. This ensures your pet will undergo minimal stress being away from his/her lavish life at home! However, if this conflicts with other daily activities or with your work schedule, pets are welcome to stay with us until 6:00 pm at no additional charge. During this time, our kennel technician will make sure they are walked and kept comfortable until their parents arrive.

We offer shampoos, moisturizing conditioners, pedicures, haircuts, and de-shedding treatments.

We price by breed and coat condition.


To the left is a Standard Poodle. To the right is a Miniature Poodle. Both were groomed by Danielle.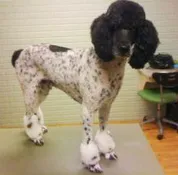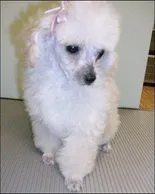 The poodle to the left has been given poms, while the poodle to the right has been given a "puppy cut", which is a general trim, with no body shaving.
Here at Lancaster Animal Clinic, our groomers have the experience to transform any dog into a work of art! Take a look below at some of our before and after pictures.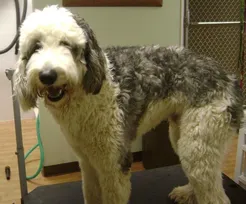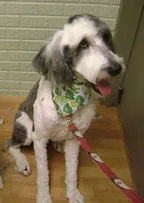 Remmington, a Sheepdog/Poodle mix , groomed by Andrea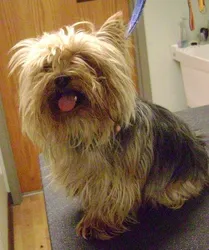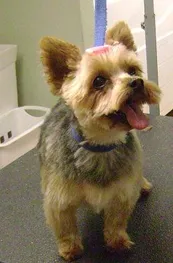 Precious, a Yorkshire Terrier, groomed by Andrea